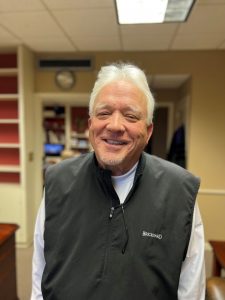 Rev. Dr. Keithen Tucker
Interim Pastor
Dr. Keithen M. Tucker is originally from Albany, Ga. He is a graduate of the Ga. Southern University, Southeastern Baptist Theological Seminary and earned his Doctorate  of Ministry degree from Drew University in Madison, New Jersey. Dr. Tucker came to Macon in 2002 after a twenty five years of pastor ministry in North Carolina. Upon coming to Macon he worked with the News organization, Baptist Today for ten years and then served the First Baptist Church of Eatonton until his retirement in 2019. He served as the Moderator of the Cooperative Baptist Fellowship of Georgia in 2017 and 2018.
He is married to his wife Sarah Crouch Tucker, has two daughters and six grandchildren.
Angela Blizzard
Minister of Music
Angela received a Bachelor's of Music Education degree from Meredith College in 2003.  She earned her Masters of Music Degree with an emphasis in Church Music from Mercer University. She earned her Masters of Arts in Christian Ministry Degree from McAfee School of Theology.   She has worked at Vineville Baptist Church since 2007, working with music, children, and youth.
Angela has a heart for music, families, and missions. She enjoys the outdoors and cherishes friend and family time. Her hobbies include singing, disc golf, research, tennis, running, fishing, and reading when time allows. She is married to Macon native Eric Blizzard and they have three daughters, Emily, Kate, and Lila.
Leigh Halverson
Minister of Family Life and Education
A native of North Carolina, Leigh graduated from Elon University.  She earned a Masters of Divinity degree from McAfee School of Theology.  She has served as Children's and Family Ministers to churches in Georgia, Missouri, and Alabama.  Leigh came back to Georgia in April 2018 to serve as the Minister of Family Life and Education here at Vineville.  Her hope is to see people of all ages enter into a life transforming relationship with Christ.
Leigh also has a heart for children from hard and hurting places.  She serves this part of her heart as a Foster Mom and while the journey can often be overwhelming she shares that one of her favorite quotes is from Rita F. Pierson, "Every child deserves a champion, an adult who will never give up on them, who understands the power of connection and insists that they become the best they can possibly be."
To Be Determined
Senior Pastor
We invite you to join us in praying for our Pastor Search Committee as they go about the work of discerning who God is leading to Vineville as our next Senior Pastor. May both Vineville Baptist Church and the next Senior Pastor be ready to go about Kingdom work together with unity, enthusiasm, and fruitful efforts.
Administrative / Clerical Staff